One of the unexpected benefits of producing the Calendar every year is you sometimes turn over a Christmas stone and find another life underneath to investigate for the rest of the year.
I'll freely admit I've never heard of the appallingly monikored Indie-pop combo Brainpool, but after unearthing this Christmas single, I've discovered that this 2013 release represents something of a welcome comeback for the Swedish band from Lund; there is – to use the latest parlance – quite a lot of love and excitement out there following the release of this track, their first in a decade.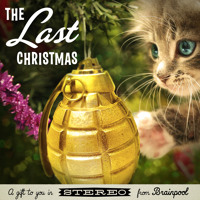 Following highly successful releases from 1993 on, their last 2004 release was a double-album called 'Junk', a rock-opera about anti-consumerism which was turned into a critically acclaimed stage show which has been playing to packed houses all over the U.S. where the band have something of a fan base. Perhaps I should be getting out more.
So what of 'The Last Christmas'? Well, it features a cover of a cute kitten playing with a gold Christmas decoration – always a winner in my book even if the ornament is actually a hand grenade – and I've been singing it constantly since I first heard it. It might be my Christmas song of 2013. But I'm still struggling with that name...